A story of a bank in India run by and for street children. An initiative by a social service organization has led to bank which offers loans to poor children to start up small businesses and teaches them to become self-reliant.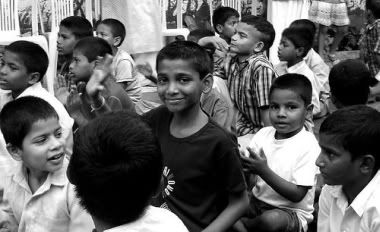 At an age when other children put in their pocket dime and cents into a porky piggy bank, these bunch of kids are running a bank all on their own. But then again, these bunch of kids are different from the regular sorts. They are the deprived class, the street kids...you might say straight from a Dicken's novel. No gargantuan glass tower, no fancy facades, but the idea and the purpose is noble enough. Welcome to the The Bal Vikas Bank, or Children's Development Bank (CDB). This is a unique initiative by a New Delhi-based NGO or Non Governmental Organization, Butterflies. Street children make up a small percentage of the population in India and other Asian countries (and also elsewhere). They are scattered amongst rag pickers, shoe shine boys, workers in tea shops and small eateries which abound in the cities. In a world of deprivation of their own, they feed on morsels and later-drugs. The vision behind the bank was to inculcate a sense of saving in street children, for whatever little they earn from odd jobs gets spent on vices like alcohol, tobacco and drugs.
The program began in 2001 and as Suman Sachdeva, project development manager of Butterflies says,
"The Children's Development Bank is not a stand alone programme. Since it's run by and for children, it inculcates in them a sense of responsibility. And it also brings them on the path of education since one can't be expected to maintain ledgers and passbooks without being literate."
So in a way, it motivates these young children to seek out more for themselves by way of a better life through direction, education and hope. They have been trained by volunteers from HSBC Bank, these children in the age group of 12-14 number about 1700 in Delhi alone. It has caught the imagination and is slowly spreading its wings in places away from Delhi too. Delhi has four counters. It has presence in Calcutta, Srinagar and Leh (Places within India) and the model is gradually getting exported to Afghanistan, Nepal and Bangladesh, while talks are on with Pakistan and Sri Lanka.
Here's how it works.
The bank opens everyday from 6 pm to 8 pm; timings are usually fixed according to the children's convenience, because they are usually working in their jobs throughout the day. To open up an account, a child has to first fill up an application form. He is then given an account number and a passbook. The minimum opening balance required is Rs 20. The interest rate an account holder gets on his savings is 3.5 per cent. If a child deposits money everyday for 11 months he gets a bonus, which acts as a motivational factor. In case a member wants to take a loan to start a new business, a street educator or bank promoter helps him draw up a business plan. The application is then forwarded to the loans committee that quizzes the applicant on his skills, his budget, where he plans to run the business and other details. The period of repayment is discussed. Once the committee is satisfied the proposal is okayed and money -- 20% of the member's savings amount -- is credited to his account. With the CDB's help, street children who usually start out as rag-pickers have now begun selling tea and plastic toys on handcarts, and set up other small enterprises. This has not only ignited their entrepreneurial skills but also has given them confidence and self respect. It specially helped girls to empower themselves. They have started tailoring or embroidery shops, and protected themselves from being pushed into prostitution.
The membership of CDB comes to an end when a child turns into an adult. Then he has the option of transferring his account into any of the other mainstream banks.
Their are certain rules which are followed. Pickpockets and drug addicts are not allowed to become members. And loan requests to start cigarette or vice related shops are not approved. It is also mandatory for adolescent boys who take loans to continue their schooling. Most BVB members are part of the National Institute of Open Schooling and continue studying whilst running their businesses. Also, plans are underway to send some of the children into some of the specialized training schools to augment their skills.
A truly path breaking effort which deserves to be lauded. This is an example of how things can be moved along and improved if society applies itself to use it's latent potential.
Note: According to a recent estimate of the International labor Organisation (ILO), more than 120 million children between the ages of 5-14 are employed as full time laborers around the world. A good number of such children labor in the most hazardous and dangerous industries. In India itself, it is estimated that there are at least 44 million child laborers in the age group of 5-14. More than eighty percent of child laborers in India are employed in the agricultural and non-formal sectors and many are bonded laborers. Most of them are either illiterate or dropped out of school after two or three years. In spite of legislation against any form of child labor, the problem persists.
Also, published by me in DigitalJournal.com